Why Learn English from The Teaching Cove?
Find out more about Sapna's classes in the short (under 3 minute) video below.
Learn 3 reasons why your kids and teens should join English Online Summer School 2022!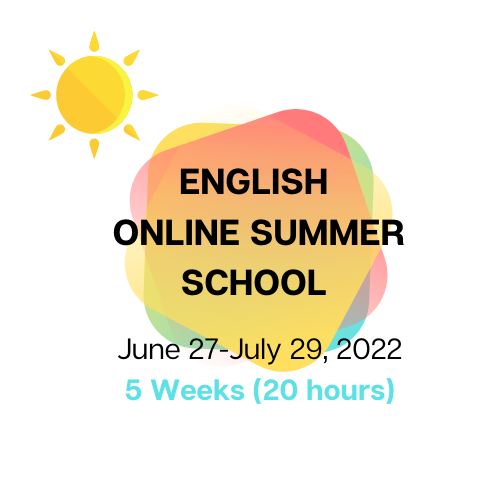 Did you know most students lose over 30% of what they learned in school over the summer? (NWEA, 2020)


Fun, games-based, themed classes in small groups (min 3, max 6) can help your kids avoid the "summer slide!", love English class, and get ahead of their class!

An hour of English class to kickstart the summer day with a smile? 😃
A bit of English practice and then jump in the sea for the day and continue your holiday?
Join us for fun, interactive classes with a new theme every week*. Help your kids retain their English skills and learn even more!
Ages 5-8 - Cool Kids
Ages 9-12 - Keen Pre-teens
Ages 13-17 - Terrific Teens
*Contact us for flexible options upon request if you can't make every week!

I'm so excited to teach your kids!
Hi! I'm Sapna and I'd love to teach your kids this summer. I'm Canadian, a native English speaker, and a linguist. I have over 20 years' teaching experience (I had my first student at 14 years old; a 6-year-old neighbour!), a Masters from the University of Oxford in Applied Linguistics & Second Language Acquisition, and a PhD in Cognitive Science and Language.


Teaching is my passion and I love designing fun, creative curricula and helping kids and teens learn. Join me this summer for classes you'll love! 🌞
Sapna Sehgal, PhD, MSc (Oxon), PGCE (TESL), BCom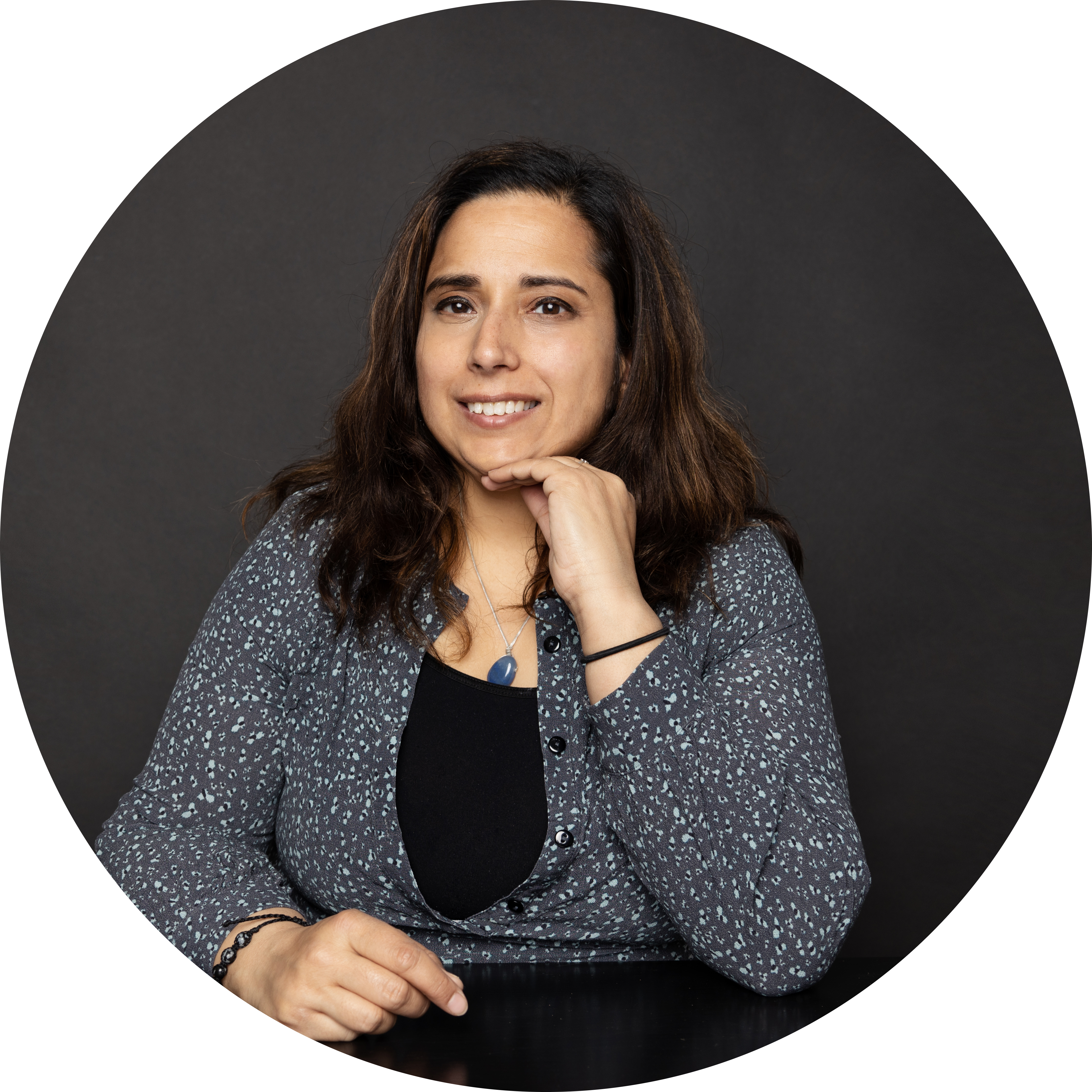 Don't take my word for it...scroll to check out student experiences.... ⬇️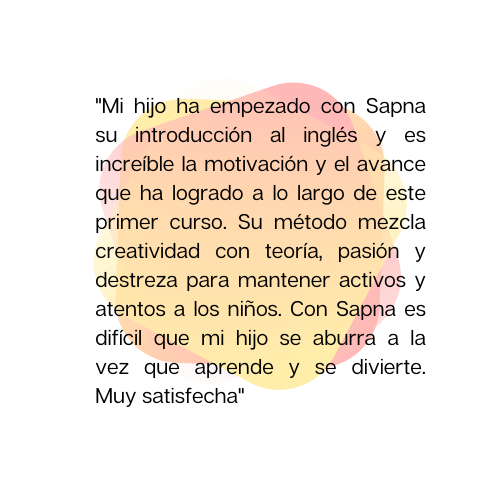 Raquel Fernandez
(son Alex, age 12)
Translation:
"My son started his introduction to English with Sapna and his progress, motivation to learn and achievements so far have been incredible! Her method mixes creativity with theory, passion, and skill to keep kids paying attention and engaged. With Sapna, it's hard for my son to ever be bored - he learns and has fun at the same time. I'm really satisfied!
Jeroni Zapata
(daughters Andrea and Carla)
taught from ages 11 to 18 & 14 to 21
Translation:
"Professionalism and flexibility in every situation...[Sapna has] a very high level of organization which perfectly structures her courses both with respect to subject matter, materials and contents to achieve the end goal. She's also really creative with respect to creation and development of activities she suggests, facilitating student-teacher interactios and doing so by combining learning with fun."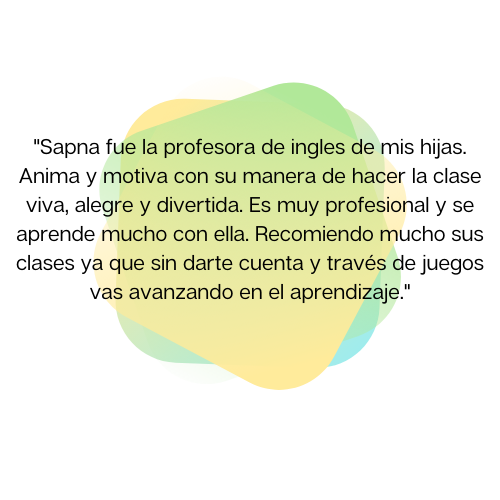 Paqui Nieve
(twin daughters Alexia & Irene)
taught from ages 6 to 9
Translation:
"Sapna was my kids' English teacher. She encourages and motivates kids with the energetic, lively, and fun way in which she does her classes. She is very professional and you can learn a lot with her. I highly recommend her classes and without realizing it and through games, you will gain a lot of knowledge, progress and learn".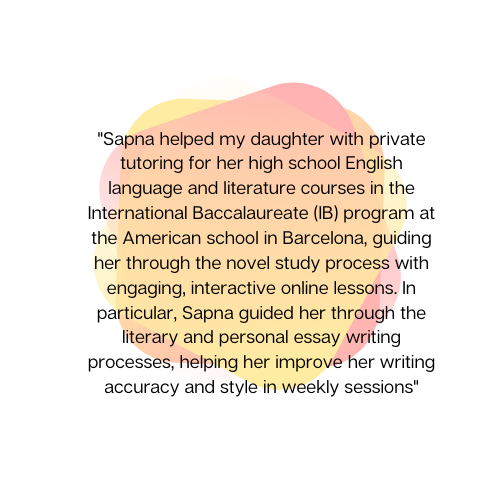 Angela Wynder
(daughter Zion)
taught from ages 15 to 16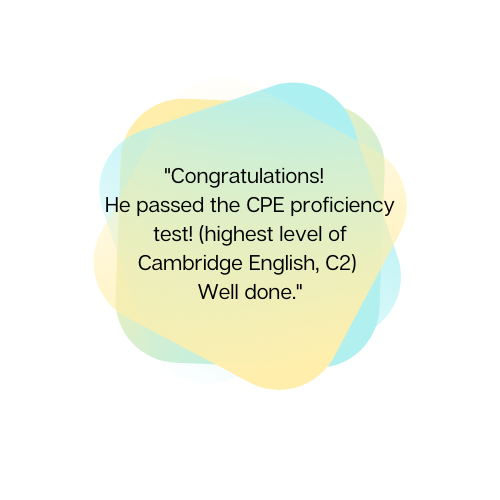 Silvia Sigler
(son Carlos, age 20 and daughter Maria, age 18)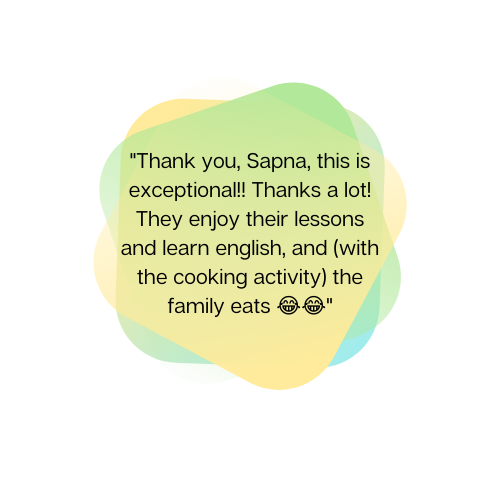 Marta Buch
(sons Marçal and Roger)
taught from ages 10-14 & 10-12


Look at some fun activities we've done - cooking, goal-setting, virtual trips, learning about other cultures.... ⬇️




So, what course options are there?


I'm glad you asked! ⬇️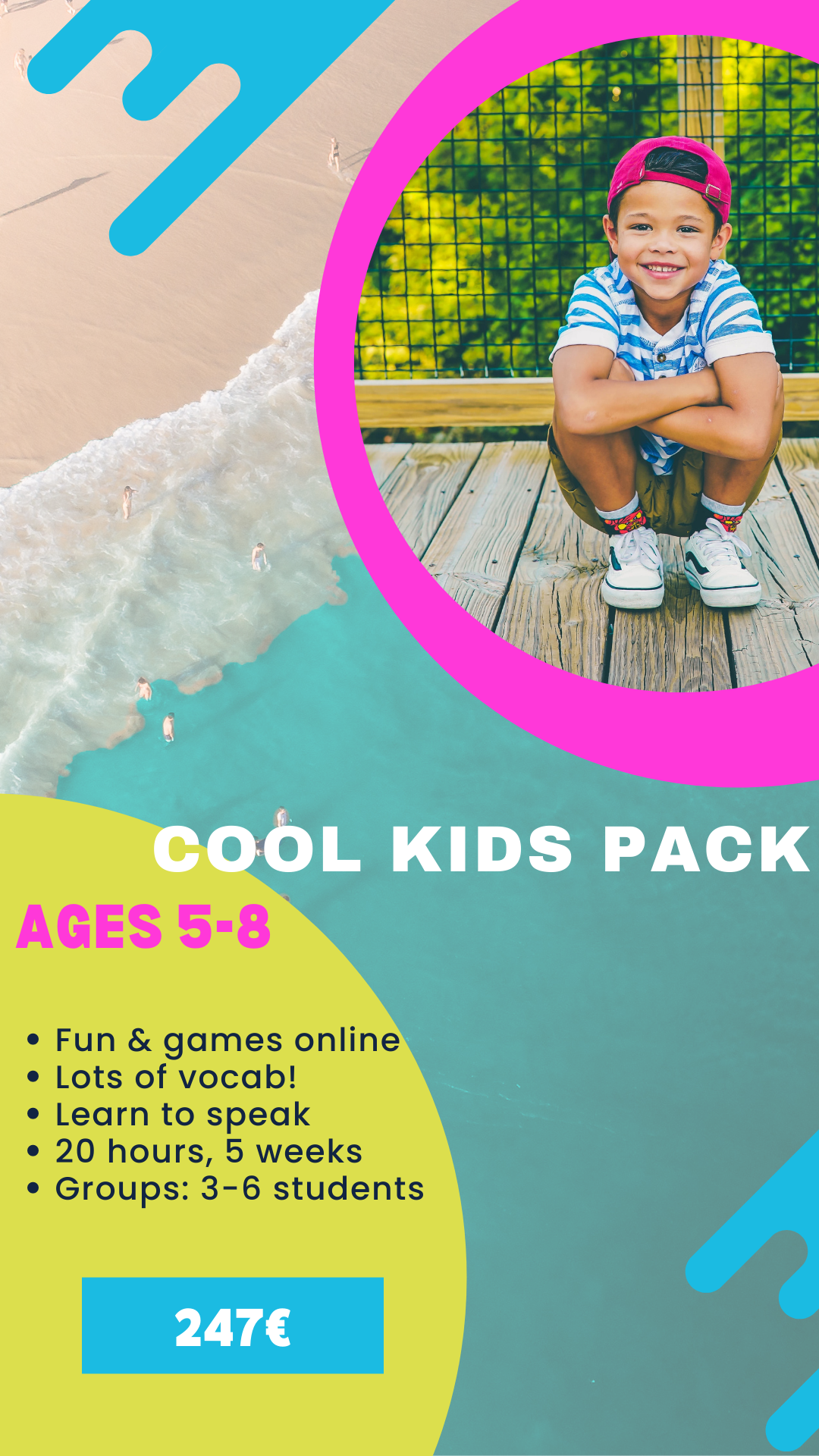 247€
Cool Kids Pack
Ages 5 to 8
☀️Lots of vocabulary!
☀️Games and crafts!
☀️Fun themes!
☀️20 hours (4hrs/wk Mon-Thurs over 5 weeks)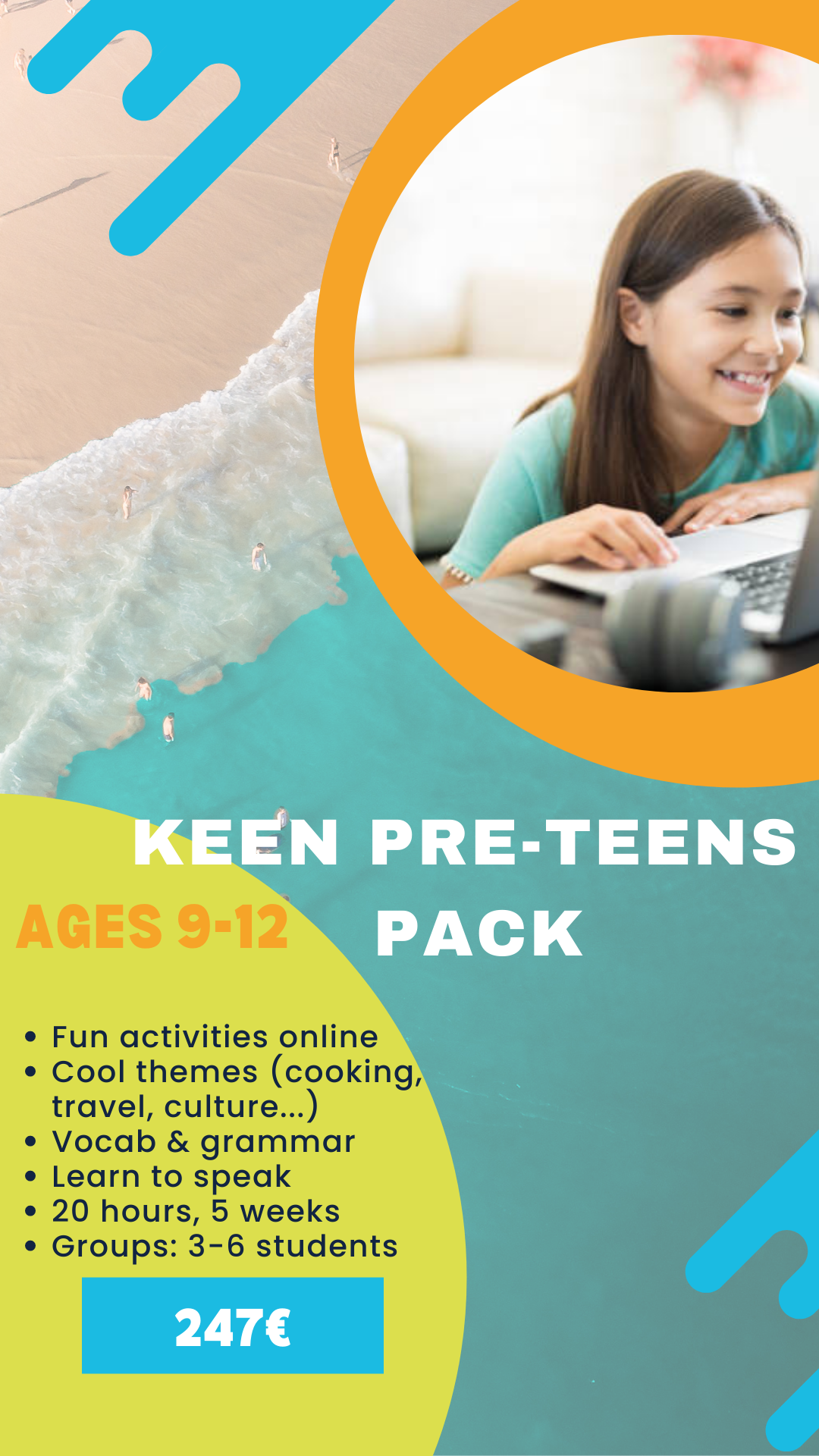 247€
Keen Pre-teens Pack
Ages 9 to 12
☀️Lots of vocabulary!
☀️A little fun grammar!
☀️Interactive online games!
☀️Authentic activities like recipes and virtual travel
☀️20 hours (4hrs/wk Mon-Thurs over 5 weeks)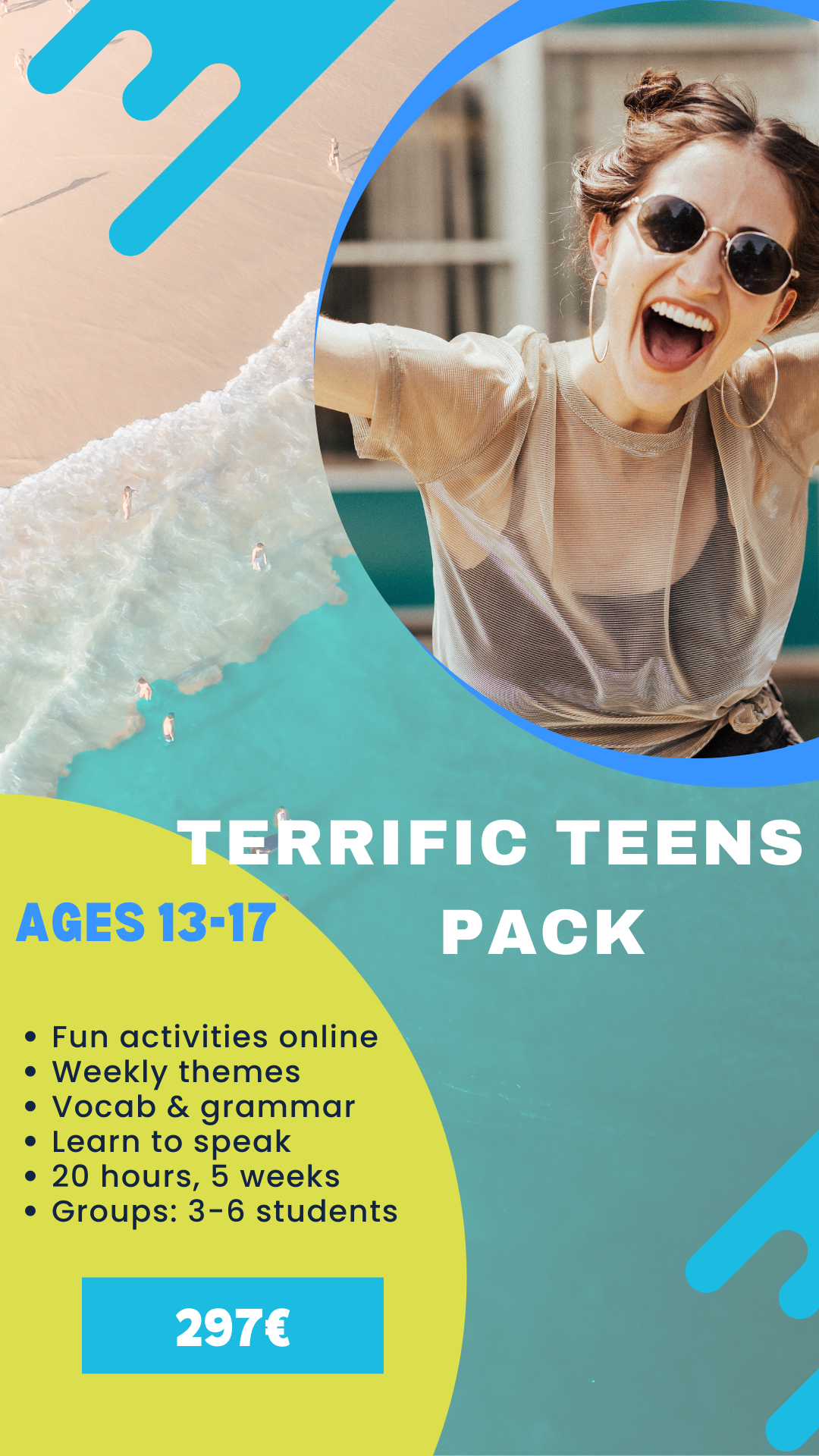 297€
Terrific Teens Pack
Ages 13 to 17


☀️Meet friends your age
☀️Speak in English about fun topics
☀️Learn vocab and grammar via speaking games and debates
☀️Make English easy!
☀️ 20 hours (4hrs/wk Mon-Thurs over 5 weeks)






All classes include course materials, fun weekly homework, progress reports for parents, and a certificate of completion 👩🏽‍🏫
Can't do all 5 weeks? We're flexible - choose what's best for you!


Example prices for the Cool Kids & Keen Pre-teens Packs:
😎 1 week - 67€
😎 2 weeks - 127€
😎 3 weeks - 187€
😎 4 weeks - 247€ (full pack)
😎 5 weeks - 247€ (full pack, free week)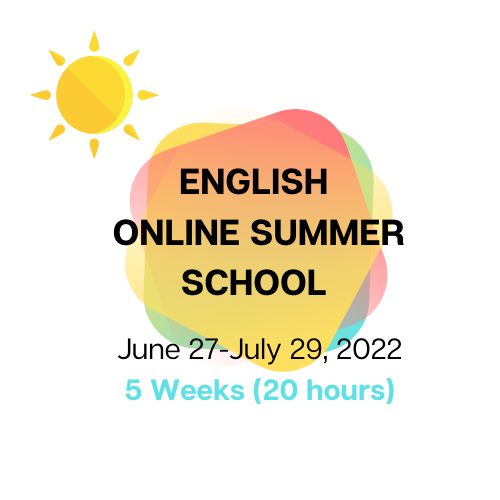 Call or email now - don't miss out! Or drop your email in the form below and we'll contact you ⬇️
Limited spots available (plazas limitadas)!
Email: [email protected]
Whatsapp: +34 664 488 677
Thank you, and have a lovely day! 😍
Check your inbox to confirm you want emails from us!